Underground utilities have become a vital aspect of local infrastructure across the United States. Even though they are critical to our everyday lives, little is being done to protect them.
If you've ever worked on any projects at home that required digging, I'm sure you've heard the phrase call-before-you-dig. Contacting your local utility companies to mark out pipelines before you dig can be the difference between rupturing an underground gas line and not. People often underestimate how important it is to know where these buried utilities are, even when doing smaller tasks like installing a mailbox. According to the Common Ground Alliance (CGA) 2019 Damage Information Reporting Tool (DIRT) Report, it's estimated that there were 532,000 excavation-related damages to underground utilities in 2019, which is a 4.5 percent increase from the 509,000 damages that occurred in 2018.
The data that was studied in the report came from various sources including facility operators, utility locating companies, call centers, contractors, regulators, and other sources in the United States and Canada. The focus of the report was to determine how many occurrences of damages there were, how much their total cost was to local utilities, and the root cause that led to the damage.
One of the most shocking figures shown by the report is the estimated direct and indirect costs of damage to underground infrastructure which totaled to an estimated $30 billion in the United States in 2019 alone. This large number represents the median of the range of costs of public and private resources that were used to repair and restore utility service, property damage, medical bills, loss of commerce while businesses are interrupted or evacuated, along with other indirect costs attributed to damaged infrastructure. The amount of events that led to known damages to gas lines alone were 19,229, which is almost 52 cases a day. The graph below taken from the DIRT Report reports how damages affected various underground utilities in 2019.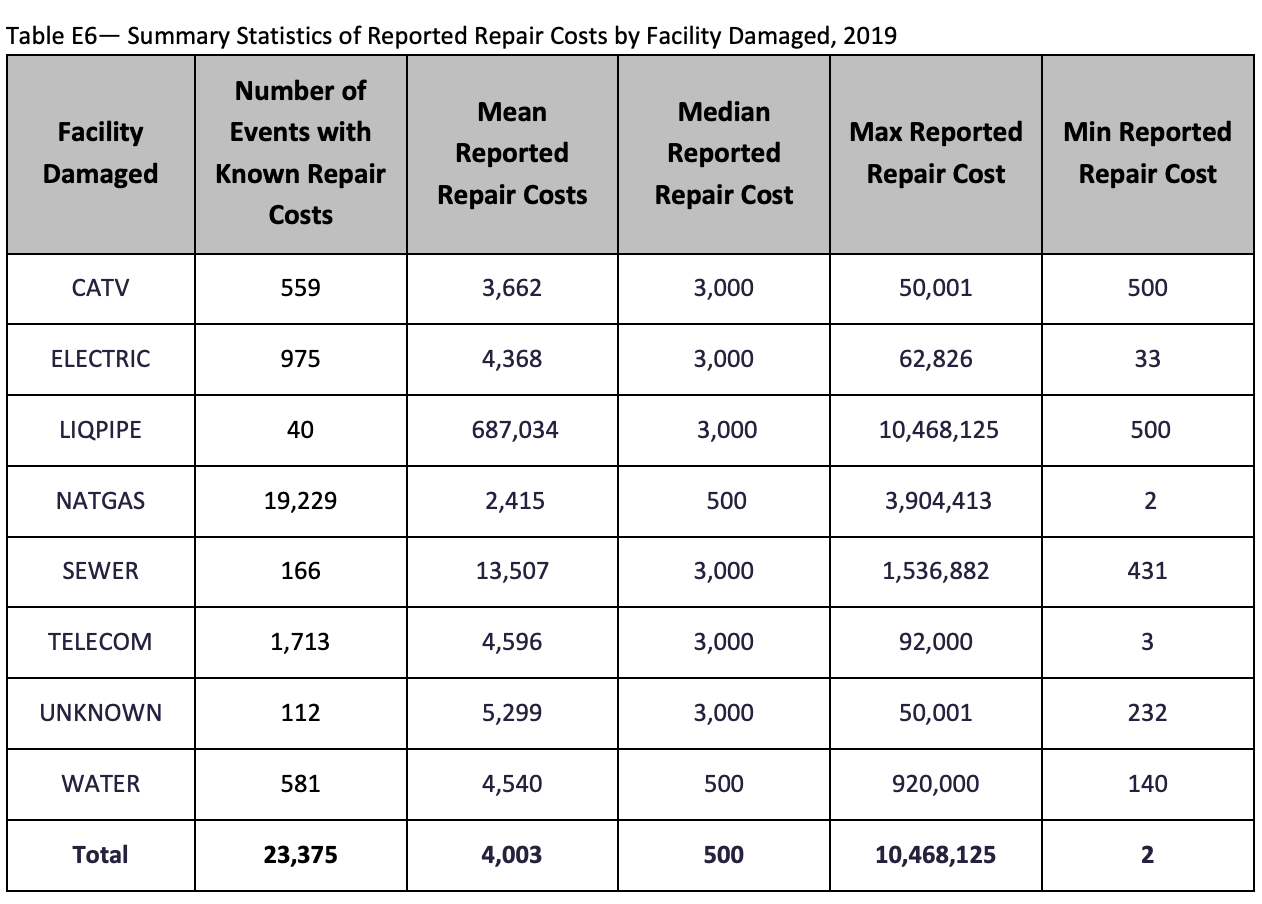 These numbers are evidence of how much these damages affect utility companies, towns, and private homeowners. These incidents are common, costly, dangerous to all those involved.
Another point that data showed was that even with an increase of call-before-you-dig campaigns in recent years, the failure to notify the 811 call center (No Locate Requests) remained as the single largest individual root cause of damaged underground utilities, and contributed to 29% of all damages. The next nearest causes for damage were excavators failing to maintain clearance (16.7%) and facilities marked inaccurately due to locator error (10.6%).
The percentage of damages due to No Locate Request has been trending upward for three consecutive years, despite call-before-you-dig awareness reaching an all-time high. Taken from 2019 DIRT Report.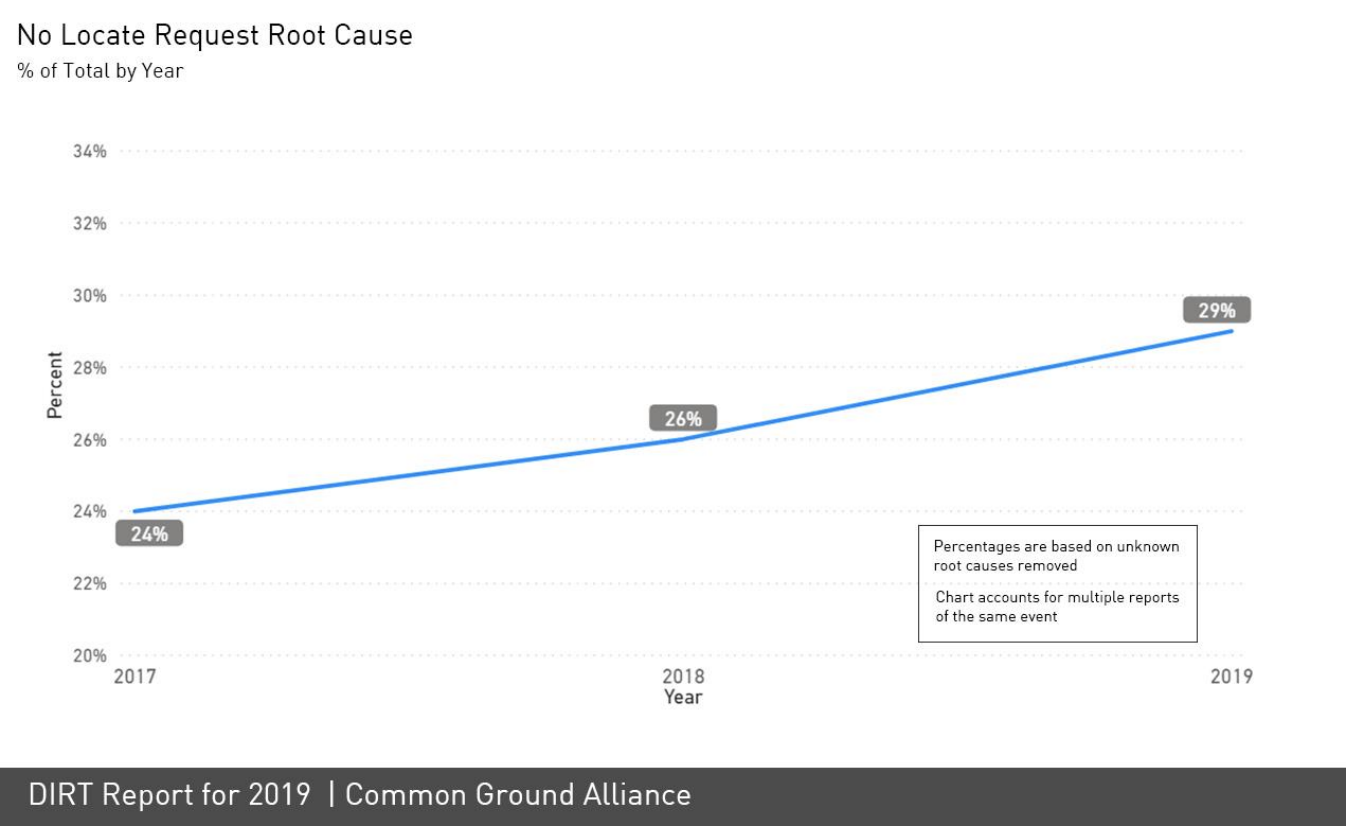 It's critical for utility companies to do more to prevent damage to their underground assets. Lucky, ATS has been working on ways to use our extensive background in data science for new Underground Utility Damage Prevention Services. These include;
We'll help find non 811 calls.
A common occurrence that leads to damages happens when homeowners obtain a construction permit with the town to work on underground tanks on their property, but then fail to contact local utility companies to mark out underground utilities. ATS can compare data using artificial intelligence to determine if someone has obtained a local government permit without contacting local utility companies.
Risk Scoring Tickets Received
Each time a person has to dig on their property, there's always a risk of accidentally hitting an underground utility line. ATS uses a hierarchy system to determine the likelihood of an accident occurring with each ticket received by local utility companies.
Educate and Promotion of Local State Safe Digging Requirements
If someone has a plan for a project that requires digging, there's a good chance we can find them. With our highly targeted marketing campaign, ATS uses Google Analytics to target those individuals and lead them in the right direction to not cause any damages to underground utilities in their proposed construction area.
While we know that it's not likely that we can stop every single person from digging on their property without taking the right precautions, we do know that companies can be doing more to prevent incidents involving underground assets. It should be extremely alarming to utility companies that the number of No Locate Requests are rising, and the price of damages to underground utilities are increasing. With an increase of local construction and home renovation during the 2020 pandemic, the numbers of damages is expected to rise. Old problems require new solutions, and with Advanced Technologies and Services long history in data analysis and problem solving, we hope that we can help communities prevent potentially dangerous situations whenever possible.
If you require any further information, feel free to contact us through the link below.